Tuscan Bread Soup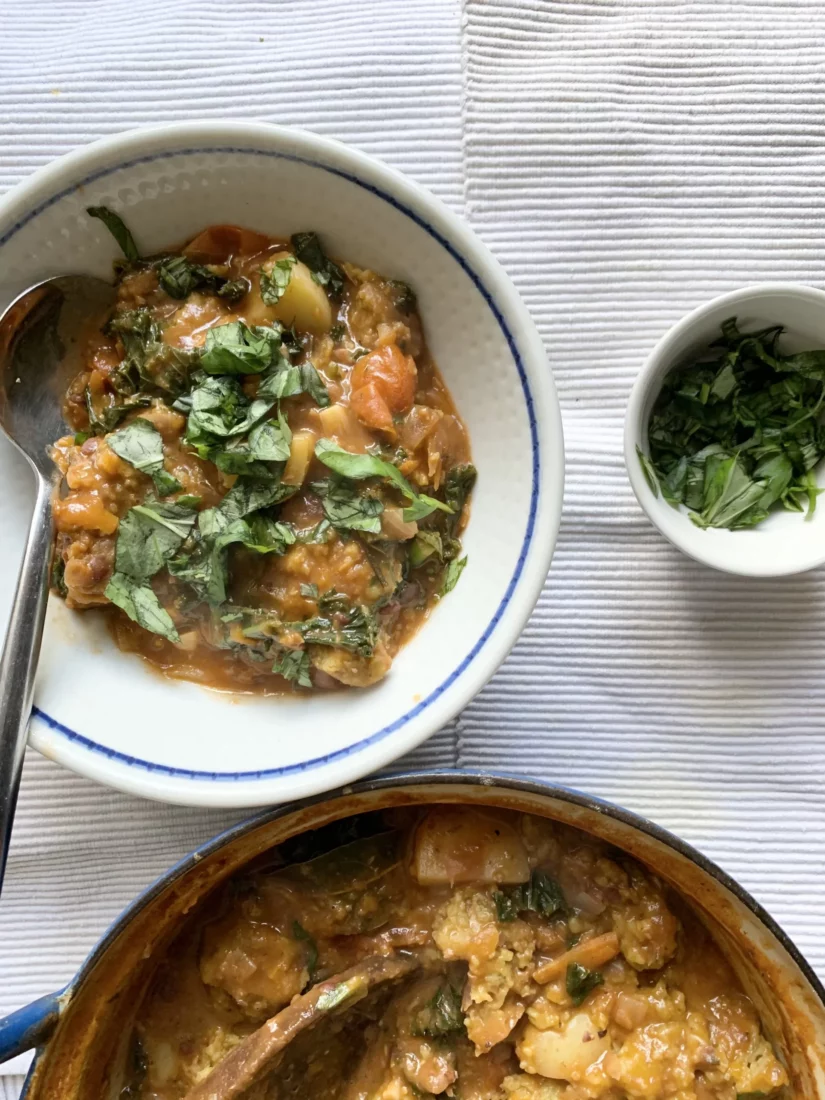 This Tuscan bread soup is a great way to use up any leftover, stale sourdough. Originating from Northern Italy and often known as a Ribollita, this dish is believed to date back to Medieval times. In less affluent communities, the stale bread was originally used as a plate (known as a trencher) for the rest of the dish, which would then get eaten once the toppings had been devoured.
Like most 'historically peasant' dishes, it is encouraged to use up any leftover vegetables instead of having a rigid list of ingredients. By definition however, a ribollita contains cannellini beans, cabbage and of course, bread, but we encourage you to get creative and use up what you have in the fridge!
Tuscan soup is a wonderfully hearty source of nutrition that improves over time; it's not uncommon to see a ribollita left on the stove all week, providing humble sustenance for these cold autumnal days.
Our sourdough is perfect for a recipe like this; the natural heartiness of our loaves means large hunks will provide a delicious, chewy texture to the soup, whereas supermarket bread would fall apart.
Ingredients (serves 4 – 6):
2 tblsp. neutral oil
1 large onion (finely chopped)
1 carrot (finely chopped)
2 celery sticks (finely chopped)
3 garlic cloves (finely chopped)
2 bay leaves
oregano
2 tsp .salt
a sprig of fresh rosemary (finely chopped)
2 tsp. smoked paprika
125g cherry tomatoes
1 baking potato (cubed)
Tomato puree + 1 cup water
1 can cannellini beans
500ml veg stock
Cabbage of your choice (kale/cavolo nero/cabbage)
Leftover sourdough
Fresh basil (roughly chopped) to serve
Pepper to serve
In a large saucepan, heat up a couple of generous glugs of your chosen oil. Whilst it is heating up, finely chop your onion, carrot and celery.
Add these to the pan and once the onion is translucent, add your finely chopped garlic, salt, herbs and smoked paprika, stirring thoroughly.
Now add your cherry tomatoes and your cubed potatoes. Feel free to burst the cherry tomatoes with a spoon to release some of the moisture, but don't worry about this too much as they will do this naturally over time.
Once the potatoes have browned, add in your tomato puree and water mix.
Bring this up to a boil whilst you blend the cannellini beans in the water it comes in, as well as your 500ml of vegetable stock.
Once blitzed, the beans should resemble a bean puree. Pour this mixture into the saucepan, bringing it to the boil again.
This will initially look like a lot of liquid, so don't fret and just let it reduce over time. Once it is boiling, reduce to a simmer and add in your chosen cabbage and hunks of sourdough.
The sourdough will immediately start to soak up any excess liquid; add in as much leftover sourdough that you have and want to use up, but just bear in mind that this will reduce the soup significantly!
Give it a taste and add any salt, pepper or other seasoning, depending on your taste.
Tips:
Take your time! A good ribollita shouldn't be rushed.
Allow the water to reduce.
If you have vegetables that you need to use up, feel free to chuck these in too. Leeks are a great addition!
Need some bread for the recipe? Shop our full collection