Toffee Apple Bread & Butter Pudding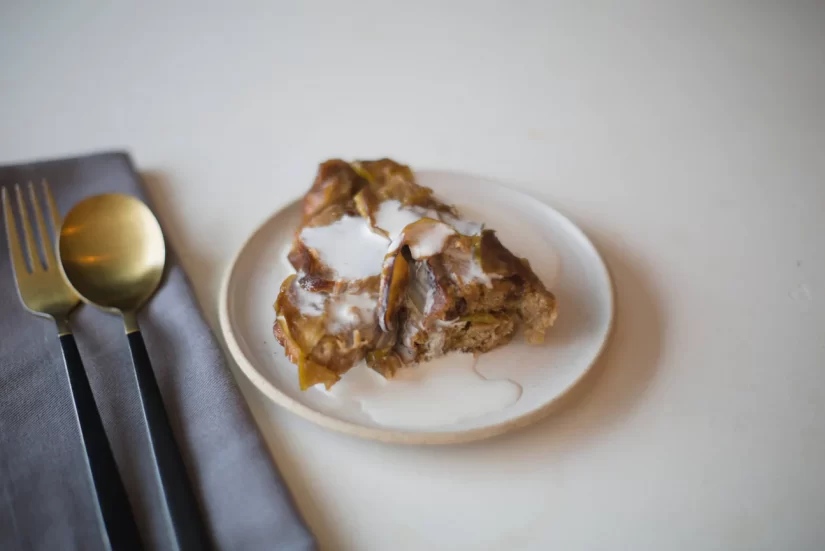 As the temperate starts to drop there's no comfort food quite like a bread and butter pudding.
Ingredients:
4 cooking apples
1 tblsp lemon juice
1 tblsp cinnamon
100g butter
100g muscovado sugar
100g (?) regular sugar
4 Good In Bread Cinnamon & Raisin Bagels
For the custard:
200ml Cream
400ml Milk
Vanilla
3 Eggs
Start off by coring your apples & slicing each into rounds a few millimetres thick.
Place in a bowl & toss with lemon juice, ½ tbsp of cinnamon & then heat up 3/4 the butter in a large frying pan with the muscovado sugar.
Once the butter has melted, add in your apple slices. After about 3 minutes, turn them over so both sides soften.
Once the apples are caramelising, cut the bagels in half & slice into thin slices. Place half of them flat in a cake or tart in, mix some cinnamon into the remaining butter & spread onto the bread.
When the caramel around the apples has thickened, take the apples off the heat & layer the first lot on top of the first layer of bread.
Keep alternating these layers until you've used up both the apples & bagels.
Set aside while you make the vanilla custard.
In a small saucepan, mix together your cream, milk, vanilla essence & whisk in your 3 eggs to make the custard. Give it a taste & once it covers the back of the spoon, take off the heat & pour over the rest of the pudding.
Bake for 35-45 minutes.