'Cheesy Peasy' Cheddar & Olive Sourdough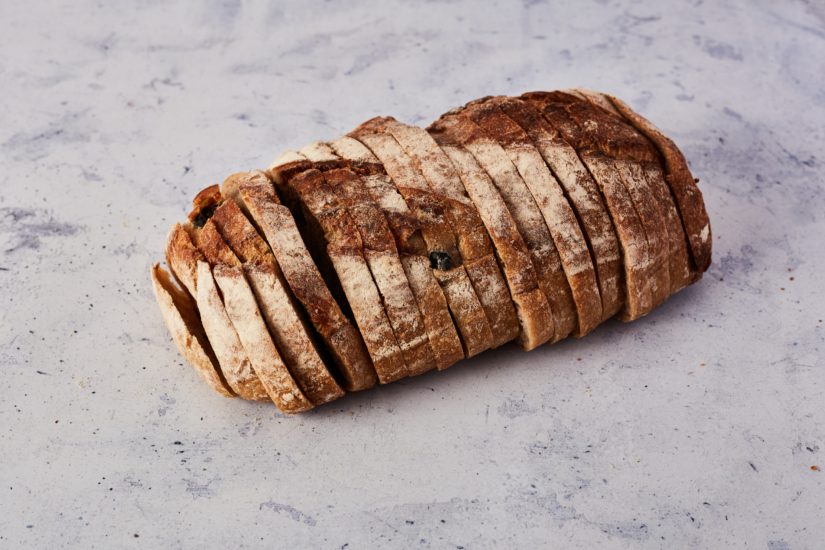 A new rustic Sourdough loaf packed with cheddar cheese & olives, this savoury loaf combines a blend of wheat, wholemeal and spelt flours to create a rich flavour profile, which alongside the gooeyness of the cheese and the saltiness of the olives, tastes a lot more like a meal than a side dish!
Enjoy it with fresh slices of tomato & red onion, tapenade or a slice of parma ham, or simply with lightly salted butter or doused in Mas Amadeo olive oil. Pop it in the toaster for an even cheesier experience.
As well as being handcrafted the artisan way and with the finest organic flours, this loaf has been fermented using natural sourdough leavens and a long and cool fermentation process, giving the bread that unique flavour, aroma and texture.
Ingredients (including allergens):
Sourdough starter (flour & water)
Organic stoneground wheat flour (gluten)
Organic wholemeal flour (gluten)
Organic spelt flour (gluten)
Olives
Salt
Water
Pepper
Cheese (Milk)
May contain traces of peanuts & other tree nuts. Approx. weight: 700g Loaf contains approx 16 slices. Receive it whole or sliced (through the letterbox).
Now offering the Extra large double-size in the dropdown below: perfect for larger households, longer-lasting freshness, and ideal for slicing & freezing.
Care instructions:
Pre-sliced: freeze right away in bio-degradable freezer bags.
Unsliced: keep at room temperature in brown kraft bag provided or in linen bag.