Chicken Schnitzel With Sourdough Breadcrumbs *Recipe*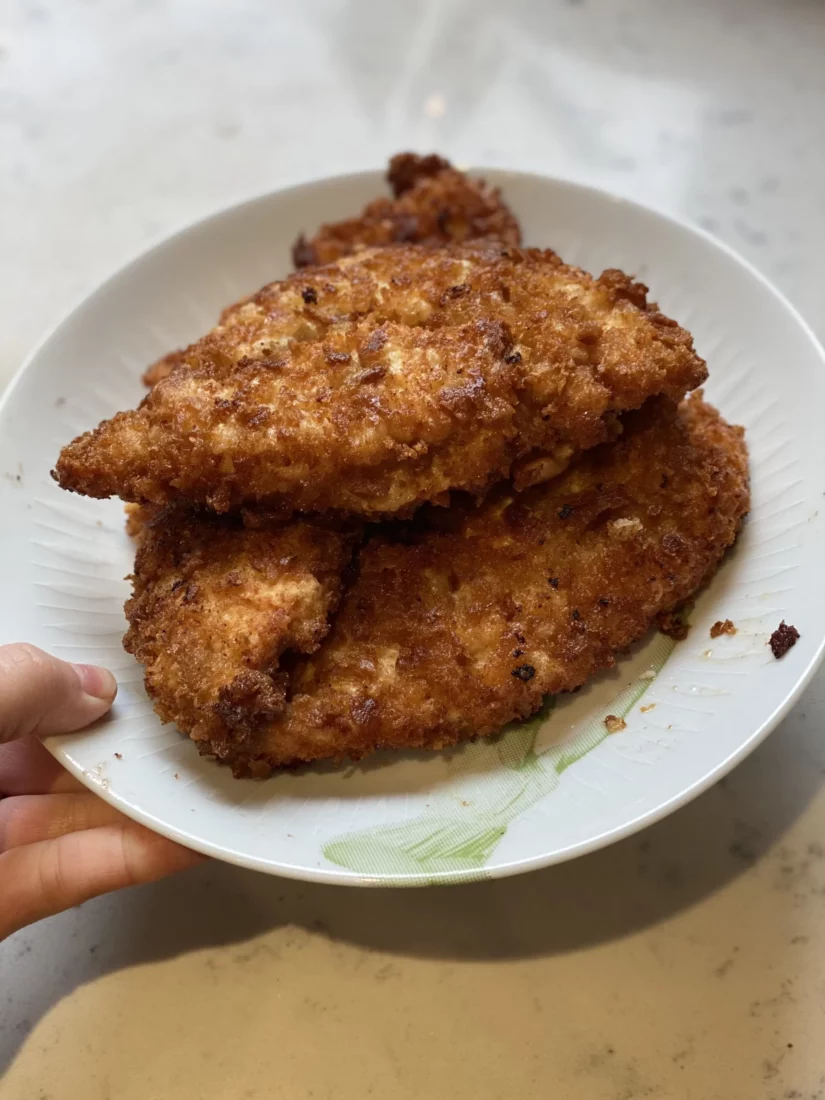 Breadcrumbs are a great way to use up scraps of leftover sourdough, and this chicken schnitzel recipe is a quick yet delicious mealtime favourite.
Ingredients (serves 4):
For the chicken:
3-4 chicken breasts
5 cloves garlic
1 Lemon (juiced – zest optional). Wholegrain mustard works too.
Salt
Black pepper
Dried oregano/tarragon/thyme OR mixed herbs
Drizzle of rapeseed oil (for frying). Vegetable oil is also fine.
For the breadcrumbs:
3 Slices of Leftover Sourdough (cut into small chunks. Pulse in food processor for 2-3 minutes until just crumbs left)
1 Cup Plain flour
3 Medium eggs
Instructions:
First, slice the chicken breast in half and open the breast out so that it resembles a butterfly. Then cover with cling film and pound with rolling pin on a chopping board to create an even thickness.
Finely chop the garlic cloves and mix with the lemon, salt, pepper & your chosen herbs.
Marinate the chicken with this mix for about 1 hour in the fridge.
Whilst it is marinating, prepare the breadcrumb mixture.
Cut the slices of leftover sourdough into small pieces then pulse into a food processor for 2-3 minutes until there are just crumbs left.
Put 1 cup of plain flour into a separate bowl, and crack three eggs into another.
Dip your chicken pieces into the flour, shaking off the excess, then dip it into the egg mixture.
Once coated, toss the chicken into breadcrumbs until each piece is evenly covered.
Drizzle your rapeseed or vegetable oil in hot pan and once the oil is hot, put your battered chicken pieces in.
Turn the hob down to a medium heat and fry each side until golden brown.
Serve hot with a side of green salad or green beans and enjoy!