Brioche French Toast with Apple-Cinnamon Compote *Recipe*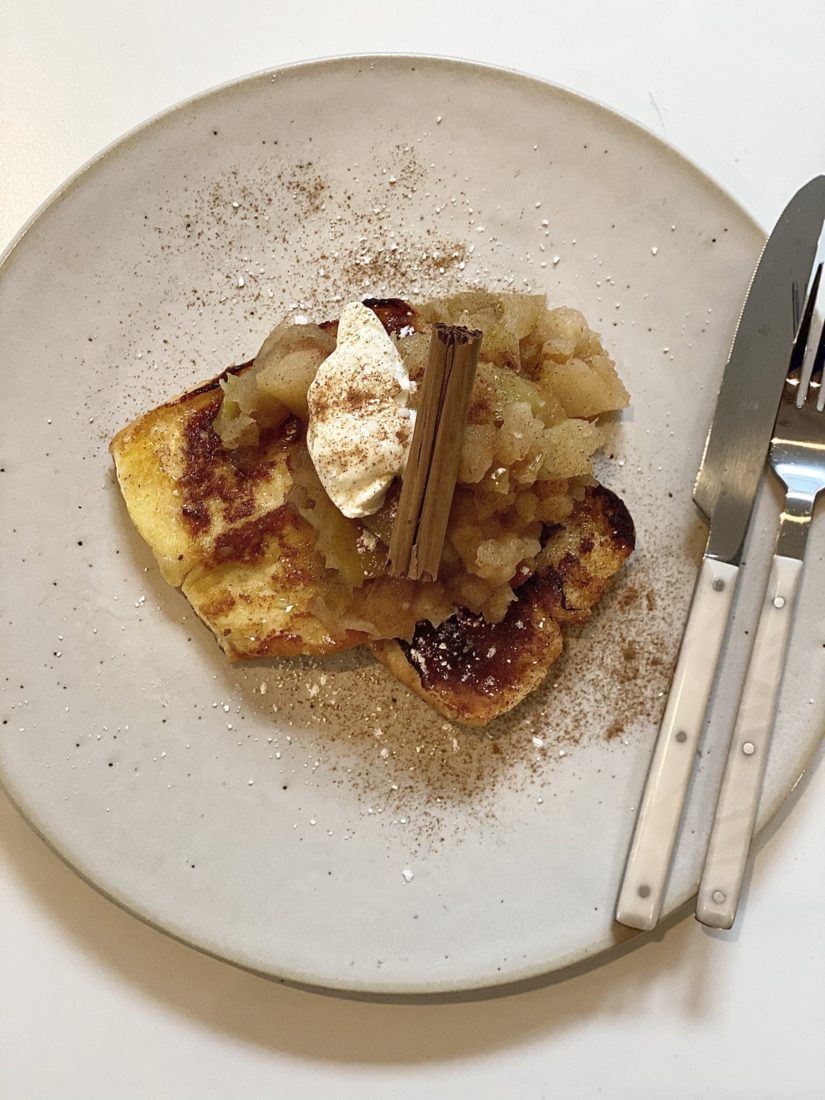 Brioche french toast is the perfect blend of buttery, decadent goodness due to the naturally soft texture of our sourdough brioche loaf. Topped with cooked apples and cinnamon, this makes for a great wintery, Sunday morning treat.
Ingredients (serves 4):
8 slices 'loaf handles' brioche
3 eggs
¼ cup whole milk
½ tsp salt
butter (for cooking)
For the toppings:
3 cooking apples
cinnamon
1 cup water
1/2 cup of caster sugar
plain yoghurt OR creme fraiche
icing sugar
Optional:
raisins/sultanas
bananas
blueberries
toasted pumpkin seeds
Isle of Purbeck honey
Make the apple and cinnamon compote before you start cooking the french toast, so that the toast will stay warm.
Peel and chop your apples into cubes, place into a saucepan and dust over some cinnamon.
Pour in 1 cup of water, just to stop the mixture burning on the bottom, and your sugar, and put it on a low-medium heat.
Keep stirring until the sugar has dissolved and gradually, after about 10-15 minutes, your apple mix should start to break down.
We like ours fairly chunky, so we take it off the heat after about 20 minutes. If you prefer it to be softer then cook for about 25-30 mins.
For the french toast:
Once it is cooking, whisk your eggs in a mixing bowl, along with the milk and salt.
Heat up the butter in a frying pan and whilst it is heating up, dip your first slice of brioche in the batter. Ensure that both sides are covered, and once the butter in the pan has melted, put your battered bread in the frying pan.
Allow it to cook for a couple of minutes on one side, until it has started to turn golden brown, then flip it so that the other side can cook.
Repeat this with each slice, adding more butter in the pan if it dries up each time.
Once each slice is finished, plate up two per portion and top with your apple and cinnamon compote and an extra sprinkling of cinnamon and icing sugar. Feel free to drizzle on a generous layer of our 'Isle of Purbeck Honey' for added indulgence, or whatever extra toppings of your choice!