Super Delicious Sourdough Croque Monsieur *Recipe*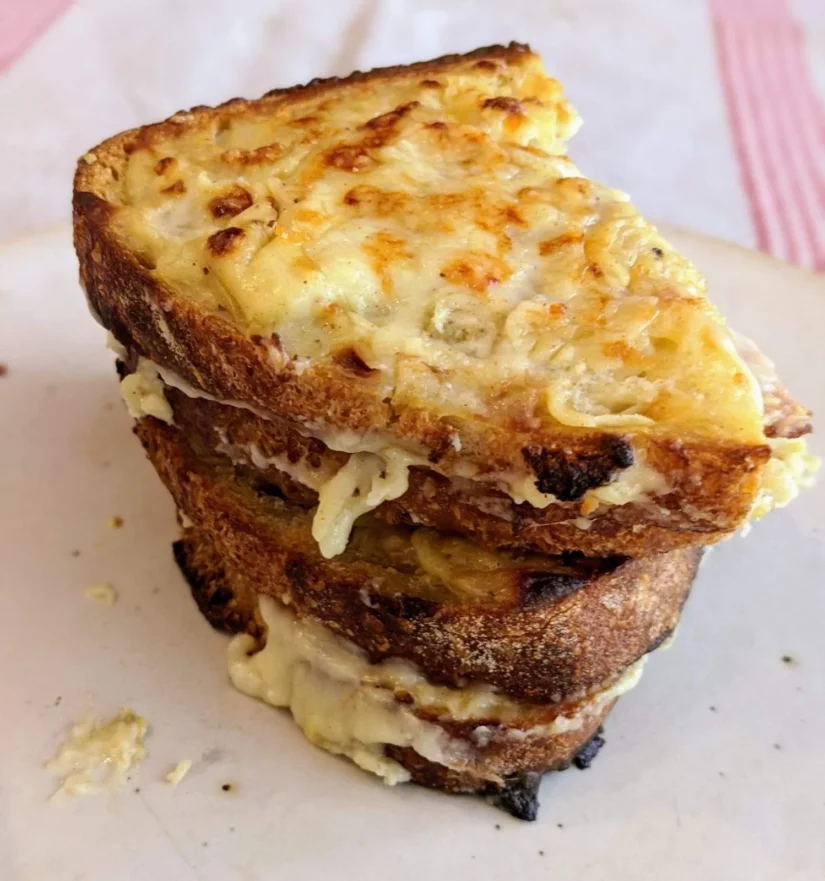 This recipe is inspired by the Croque Monsieurs I used to have in my childhood or more recently on the terrace's of Parisian bistros, sipping on a glass of red wine and watching the people go by. Of course, the cheese wasn't always this generously applied and the bread wasn't Sourdough. So I call this the super delicious Sourdough Croque Monsieur because something about Sourdough makes the sandwich that much more delicious!
INGREDIENTS
For the sandwich
4 thick slices of True Loaf Sourdough
20g butter, melted
1 tsp Dijon mustard
100g grated gruyère
2 thick slices of cooked ham
For the béchamel sauce
300ml milk
1 garlic clove, crushed
1 bay leaf
1 small onion, chopped
20g butter
20g plain flour
1 heaped tsp Dijon mustard
Ground nutmeg
INSTRUCTIONS
First, make the béchamel. Put the milk, garlic, bay leaves and onion in a small pan over a medium heat and stir. Heat until nearly boiling, then turn the heat off and leave for 10 mins to infuse. Pass the liquid through a sieve and discard the bay and onion.
Melt the butter with the flour in another pan and cook over a gentle heat until it smells biscuity. Gradually whisk in the warm milk and bring to a gentle boil, stirring regularly, then add the Dijon mustard, nutmeg and salt & pepper.
Brush the 4 slices of bread with melted butter. Place them on a baking tray and toast one side under a grill, buttered-side up, until golden. Take them out and heat oven to 220C/200C fan/gas 7.
Turn the 2 of the slices of bread over and spread each slice with a thin layer of Dijon, followed by a layer of the béchamel. Cover the sauce with grated gruyère, and then a slice of ham. Take the 2 buttered slices and put them onto of the the other 2 open-faced sandwiches and spread a thin layer of the sauce over the top slice and sprinkle more gruyère on top. Put the sandwiches in the oven and bake for 10-15 mins or until golden. Mix the mustard and mayo together and serve alongside.