Festive Sourdough Stuffing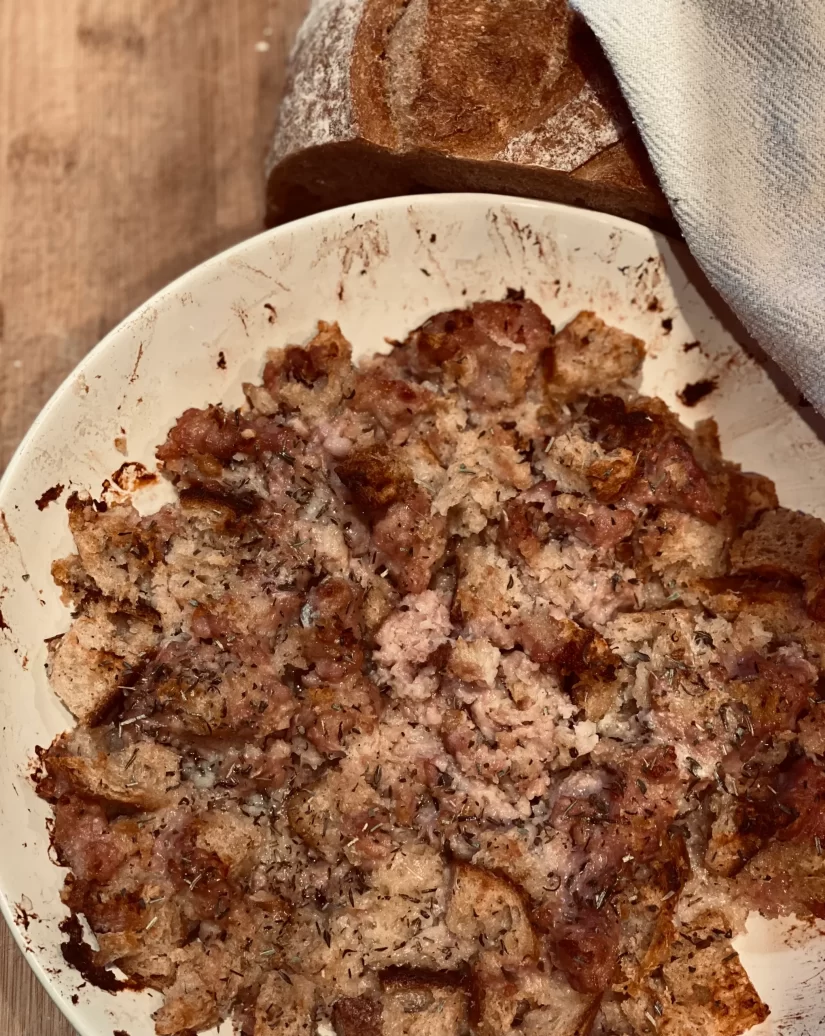 Just in time for the festive season, this sourdough stuffing is a quick yet delicious alternative to packet stuffing. Any of our loaves can be used for this recipe; even the hazelnut and cranberry 'Nutty But Nice' would provide a delicious texture to your mix.
Our recipe is for a classic chestnut stuffing, but please feel free to add any other ingredients that take your fancy. We love adding a few hazelnuts for crunch, or dried fruit.
Ingredients:
Sourdough
Olive oil
Salt
Rapeseed oil
1 medium-large onion
3 cloves garlic
Whole cooked chestnuts
Rosemary
Thyme
Alternative extras:
Leeks
Mushrooms
Nuts
Apricots
Cranberries
Method:
Pre-heat your oven to 180c and roughly chop or tear your sourdough into chunks.
Toss them in some olive oil and salt, and place on a baking tray in the oven for 10-12 minutes, checking every few minutes or so.
Meanwhile, finely chop your onion, garlic and chestnuts.
Pour the rapeseed oil into a frying pan on a medium heat.
Once the oil is hot, add your onion.
When the onion turns translucent, add the garlic, cooked chestnuts, herbs and salt.
Remove the mix from the heat and decant it into a mixing bowl, whilst you wait for the sourdough to be toasted in the oven.
Once your sourdough is golden and crispy, remove from the oven and add it to the mixing bowl with the onion mix.
Drizzle over a generous amount of olive oil and some salt, then place it into a baking dish and bake for 20 mins, until golden and crispy.