Fig, Walnut & Goats Cheese Salad with Toasted Rye Bread Croutons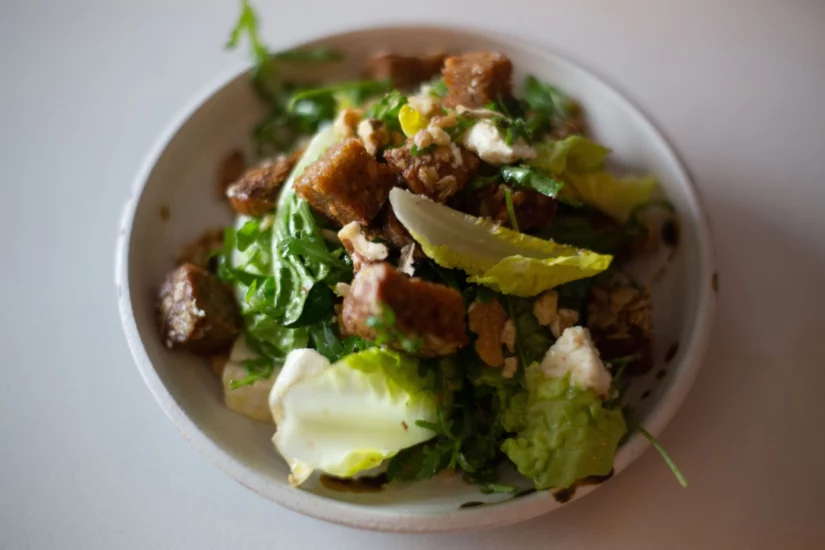 Sourdough croutons are a great way to use up any leftover sourdough and we love the added depth that Rye bread croutons have. It compliments the toasted walnuts and tastes almost sweet from the addition of summer figs. If figs are hard to find then dried ones make a nice substitute!
Ingredients (for the croutons):
½ loaf of Good In Bread Rye Nordic Rye 'Loaf Story'
Olive oil
Salt
Dried herbs (optional)
Ingredients (for the salad) serves 4:
2 romaine lettuces
2 fresh figs or alt. A handful of dried
75g walnuts, lightly crushed and toasted
50g goats cheese
A salad dressing of your choice: We went for a simple vinaigrette as so much flavour comes from the figs, goats cheese & walnuts. If you dont have any at home you can make a quick one by mixing: 3 parts olive oil, 2 parts balsamic vinegar and 1 part wholegrain mustard. TIP: add a spoonful of honey for sweetness.
Preheat your oven to 180C first, then while it is heating up, roughly slice your Nordic Rye 'Loaf Story' into 1cm cubes.
Toss in a bowl with a generous glug of olive oil, some salt and some dried herbs of your choice (we find fennel seeds compliment the rye while adding an interesting depth), then lay flat on a baking tray. Once the oven is hot, bake for 8-10 minutes until crispy.
Set aside and assemble the rest of the salad; cumbling in goats cheese, roughly chopping the figs, tossing in the toasted walnuts and finally, the croutons.