Bonfire Night Baps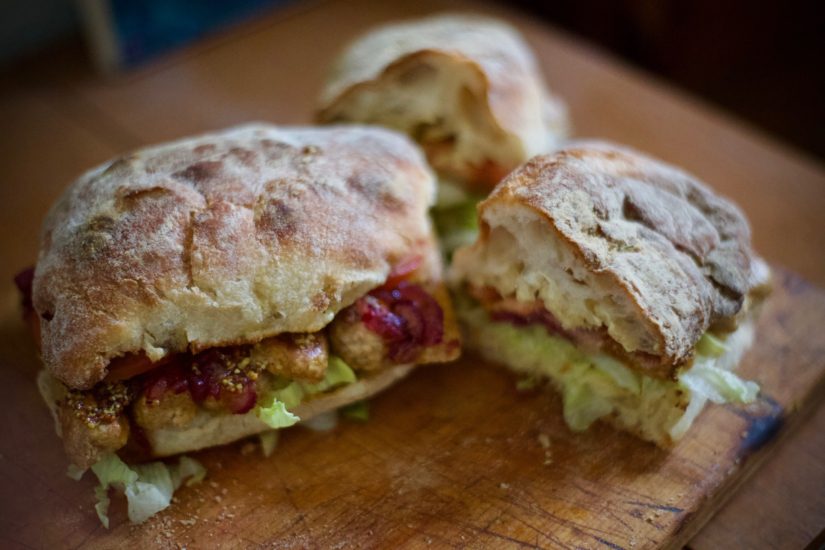 We love the festive season & celebrating bonfire night, so we've made up these bonfire night baps using our Ciabatta Rolls, with hot dogs of your choice (meat or veggie) to make a hassle free street-food style dinner to enjoy with the fireworks.
For the maple-mustard:
½ maple syrup
¼ cup dijon
¼ cup wholegrain
For the caramelised onions:
2 tbsp rapeseed oil
3 large red onions, sliced
2 tbsp brown sugar
1-2tbsp balsamic vinegar
For the baps:
4 ciabatta buns
12 sausages of choice
Rocket
Tomatoes
First, heat up your oven to 180C. While it is warming up, heat up some oil in a medium-large frying pan, & once hot, finely slice your red onions, adding them to the pan, simmering gently.
Meanwhile, place 12 sausages in a baking tray with a bit of oil & place in the oven.
When the onions are almost translucent, add your brown sugar, stirring constantly, shortly followed by the balsamic vinegar to deglaze.
Keep simmering for about 20 minutes on a low heat, until all the sugar has dissolved into the vinegar & they start to thicken, then take off the heat.
Meanwhile, make up your maple-mustard sauce by mixing together both mustards with the maple. Set aside until you're ready to assemble.
When your sausages are about 3 minutes away, slice your ciabatta buns in half & toast each of them.
Remove the sausages from the oven & then assemble the baps in the order of your choice, adding rocket, tomato & any other chosen extras, before loading up your caramelised onions on top of the sausages. Enjoy!